Best Western du Mucem, Marseille
The hotel du MuCEM blends perfectly into its location in the heart of the Euroméditerranée district, the new economic and cultural centre of Marseille. With its traditional Marseille-style frontage, the hotel du MuCEM renews its ties with the history of this lively and constantly changing district overlooking the sea.
A large number of shops and restaurants are located around the Hotel, on the Terrasses du Port, the Village des docks and the Voutes de la Major. What's more, the Hotel is in the immediate vicinity of the MuCEM Museum, the Grotte Cosquer, the Museum of European and Mediterranean Civilisations. In the same way that Provence is as inseparable from Marseille as the blue of the sky is from the Mediterranean sun, the hotel stands out by the sparkle of its colour palette, its frescos and its posters that place us in the very heart of the city and of a region whose beauty has never ceased to inspire a great number of artists.
The Hotel thus invites us on a journey to the very heart of this historic city and the charms of the Provence region. A journey borne aloft by the beauty of the monuments, landscapes and an omnipresent, living sea.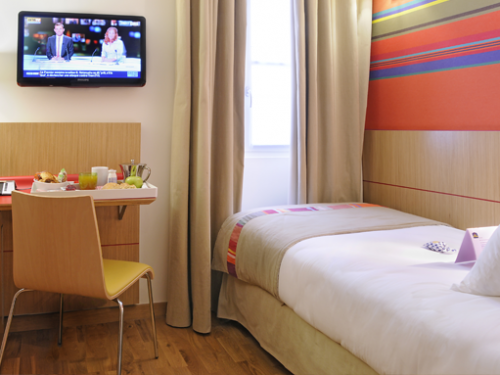 Our hotel has 5 single rooms with a 90x190cm bed
This small 9 m² room will suit small budgets who will appreciate the excellent value for money
The hotel offers you 9 "Comfort" rooms equipped with a double bed.
The rooms are on average 12m2 in size.
These rooms offer an atmosphere similar to that of the hotel in general. Colourful surroundings, quality 3-star services and modern facilities guaranteeing you all the comfort you require for your stay.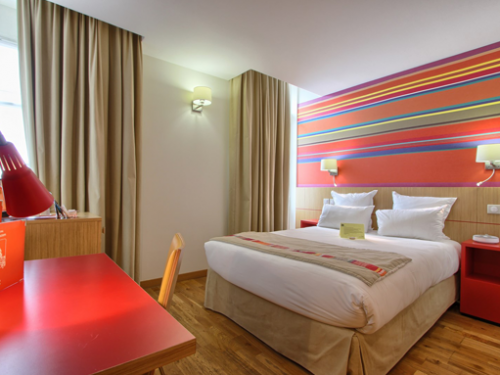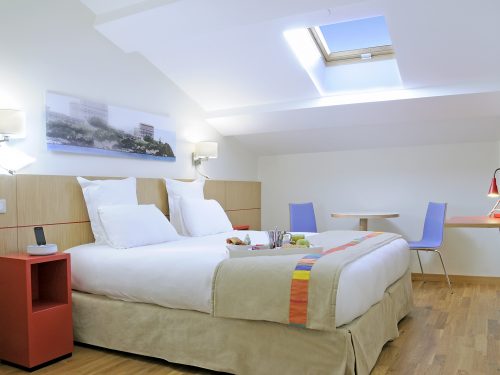 Discover one of the 15 "Superior" rooms of the hotel. These rooms are equipped either with a large 180cmx200cm bed or with 2 twin beds.
Please inform us of your preference at the time of booking (rooms are 14²m on average)